Raspbian Notes (Updated)
Keeping a few notes in an easy-to-reach place lest I forget (or end up having to reimage the disk after wrecking things beyond repair and forgetting to back stuff up first…)
Setup
Raspberry Pi 3 B+
Raspbian Stretch Lite
Logitech K375s (wireless via USB Unifying Receiver)
Monitor (via HDMI)
Fixing Keyboard Annoyances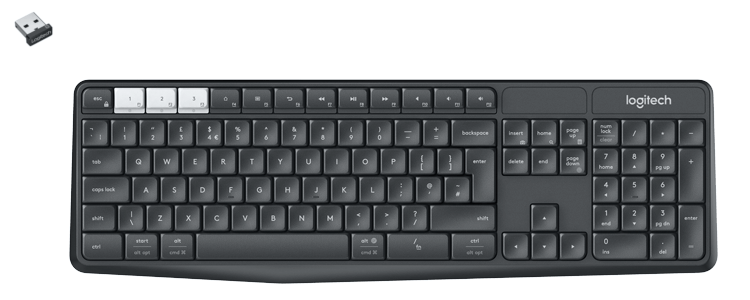 My Logitech K375s via the unifying receiver works properly except but some of the keys were all a-poopy, i.e.:
Home and End cycle between ttys (just weird)
Right-Control key would behave like a special character insert key (may be standard on non-US keyboards, I dunno)
No luck trying to change the locale/layout with raspi-config, but appending this to /etc/console-setup/cached_keyboard_setup.sh worked:
kbdrate -d 175 -r 200
loadkeys <<-EOT
    keymaps 0-255

    # make capslock another escape key
    keycode 50 = Escape

    # fix right control key
    keycode 100 = Control

    # fix home key
    keycode 105 = Left
    alt keycode 105 = Home

    # fix end key
    keycode 106 = Right
    alt keycode 106 = End
EOT

Pinning hardware device identifiers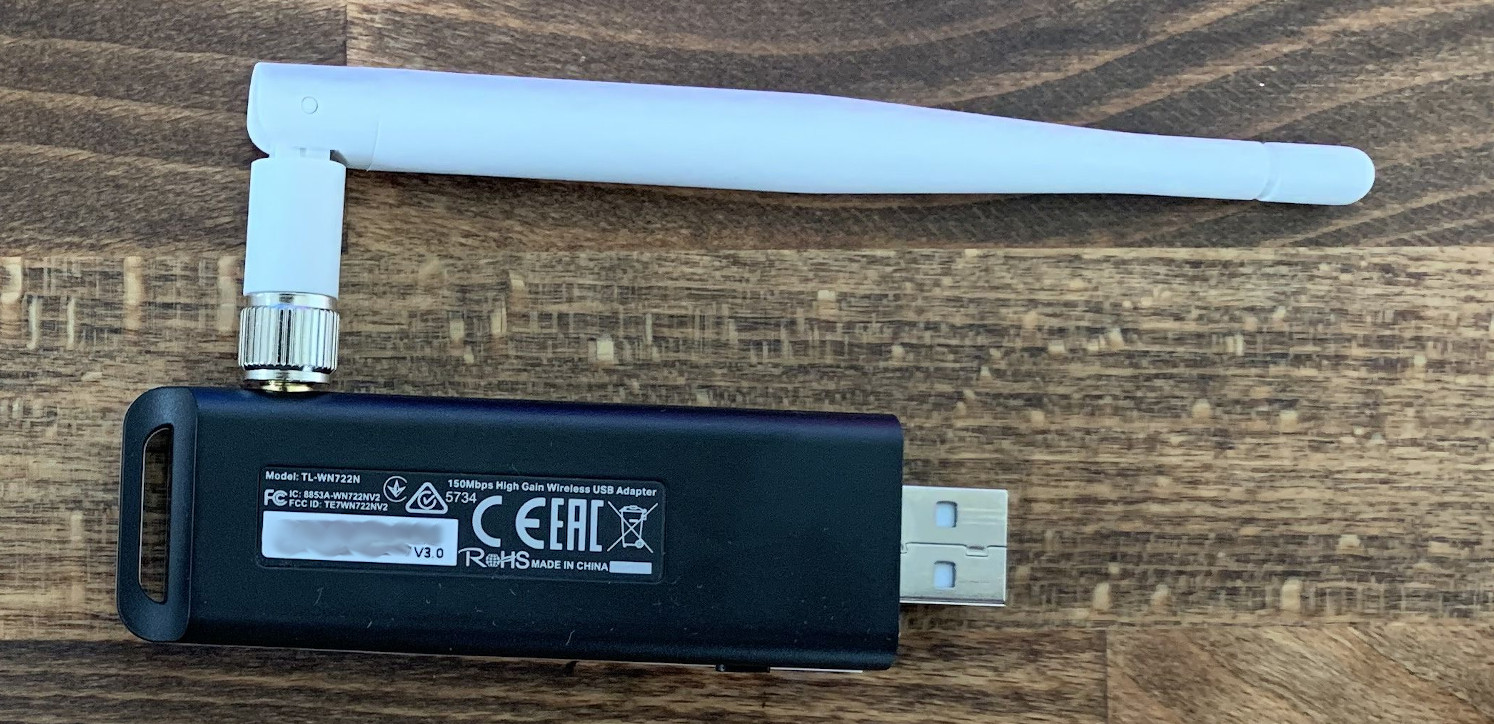 I'm using the above-pictured TP-Link TL-WN7222N v3 USB Wi-Fi adapter which is capable of entering "monitor" mode. To actually put it into monitor mode though, you need a specialized rtl8188eu driver. After compiling, I manually tested and confirmed that it was working:
$ sudo insmod /lib/modules/4.19.66-v7++/kernel/drivers/net/wireless/8188eu.ko
$ sudo iwconfig wlan1 mode monitor

After rebooting, that same iwconfig command gave this error:
Error for wireless request "Set Mode" (8B06) :
    SET failed on device wlan1 ; Operation not supported.

Apparently the reboot reordered my wlan* devices: wlan0 (onboard) became wlan1 and wlan1 (USB) became wlan0. I'm assuming this is because the new 8188eu driver occurs before both the on-board's brcmfmac and the default TP-Link's r8188eu in lexical order?
I added this udev rule to pin the device ID to something predictable:
sudo tee /etc/udev/rules.d/tplink_wlan.rules <<< \
    'SUBSYSTEM=="net", ATTRS{idVendor}=="2357", ATTRS{idProduct}=="010c", NAME="tplink"'

To make sure the rule worked, I ran (note, wlan0 is what the TP-Link was mapped to at the time):
$ sudo udevadm test /sys/class/net/wlan0

To get the values to specify in ATTRS{...}, I used lsusb:
$ sudo lsusb
Bus 001 Device 004: ID 046d:c52b Logitech, Inc. Unifying Receiver
Bus 001 Device 009: ID 2357:010c TP-Link TL-WN722N v2
Bus 001 Device 006: ID 0424:7800 Standard Microsystems Corp.
Bus 001 Device 003: ID 0424:2514 Standard Microsystems Corp. USB 2.0 Hub
Bus 001 Device 002: ID 0424:2514 Standard Microsystems Corp. USB 2.0 Hub
Bus 001 Device 001: ID 1d6b:0002 Linux Foundation 2.0 root hub

$ lsusb -d 2357:010c
Bus 001 Device 009: ID 2357:010c TP-Link TL-WN722N v2

$ lsusb -d 2357:010c -v
Bus 001 Device 009: ID 2357:010c TP-Link TL-WN722N v2
Device Descriptor:
  bLength                18
  bDescriptorType         1
  bcdUSB               2.00
  bDeviceClass            0 (Defined at Interface level)
  bDeviceSubClass         0
  bDeviceProtocol         0
  bMaxPacketSize0        64
  idVendor           0x2357 TP-Link          <------- this is what we're looking for
  idProduct          0x010c TL-WN722N v2     <------- this too...
  bcdDevice            0.00
  iManufacturer           1 Realtek
  iProduct                2 802.11n NIC
  iSerial                 3 00E04C0001
  bNumConfigurations      1
  Configuration Descriptor:
    bLength                 9
    bDescriptorType         2
    wTotalLength           39
    bNumInterfaces          1
    bConfigurationValue     1
    iConfiguration          0
    bmAttributes         0xa0
      (Bus Powered)
      Remote Wakeup
    MaxPower              500mA
    Interface Descriptor:
      bLength                 9
      bDescriptorType         4
      bInterfaceNumber        0
      bAlternateSetting       0
      bNumEndpoints           3
      bInterfaceClass       255 Vendor Specific Class
      bInterfaceSubClass    255 Vendor Specific Subclass
      bInterfaceProtocol    255 Vendor Specific Protocol
      iInterface              0
      Endpoint Descriptor:
        bLength                 7
        bDescriptorType         5
        bEndpointAddress     0x81  EP 1 IN
        bmAttributes            2
          Transfer Type            Bulk
          Synch Type               None
          Usage Type               Data
        wMaxPacketSize     0x0200  1x 512 bytes
        bInterval               0
      Endpoint Descriptor:
        bLength                 7
        bDescriptorType         5
        bEndpointAddress     0x02  EP 2 OUT
        bmAttributes            2
          Transfer Type            Bulk
          Synch Type               None
          Usage Type               Data
        wMaxPacketSize     0x0200  1x 512 bytes
        bInterval               0
      Endpoint Descriptor:
        bLength                 7
        bDescriptorType         5
        bEndpointAddress     0x03  EP 3 OUT
        bmAttributes            2
          Transfer Type            Bulk
          Synch Type               None
          Usage Type               Data
        wMaxPacketSize     0x0200  1x 512 bytes
        bInterval               0
Device Qualifier (for other device speed):
  bLength                10
  bDescriptorType         6
  bcdUSB               2.00
  bDeviceClass            0 (Defined at Interface level)
  bDeviceSubClass         0
  bDeviceProtocol         0
  bMaxPacketSize0        64
  bNumConfigurations      1
Device Status:     0x0002
  (Bus Powered)
  Remote Wakeup Enabled

The Arch Wiki pointed me in the general direction sort of, but finding this attribute information was… not intuitive. Sometimes I think hardware people don't like documentation. 🤕